Stinging Nettle root, also known as Urtica Dioica, is a herb grown in parts of Europe, Africa, Asia, and North America. It has a long history of use and was first used by the Ancient Greeks as a therapeutic medicine to enhance male health and improve digestive health.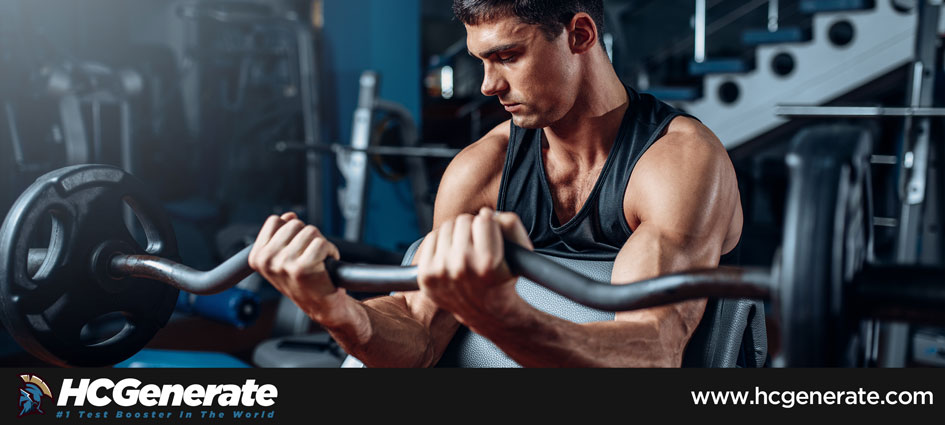 Stinging Nettle Increases Free Testosterone by Lowering SHBG
Most of the testosterone in your blood is attached to the protein sex hormone binding globulin (SHBG). Testosterone that is not attached to this protein is called your free or bioavailable testosterone. Free testosterone is the testosterone that is most easily used by your body. Testosterone that is bound to SHBG is unusable by the body. The more testosterone that's not bound to SHBG, the more usable testosterone there is for the body to use.
Stinging nettle contains a substance called 3,4-divanillyltetrahydrofuran, which binds to SHBG. So, while stinging nettle root does not increase total testosterone in the blood, it does appear to increase usable testosterone levels by binding to SHBG, making more free testosterone available [1]. Various studies confirm that stinging nettle root supplementation reduces the reduced binding of SHBG to testosterone [2,3]. There is also evidence that stinging nettle reduces the conversion of testosterone into estrogen by acting on the enzyme (aromatase) that converts testosterone to estrogen [4].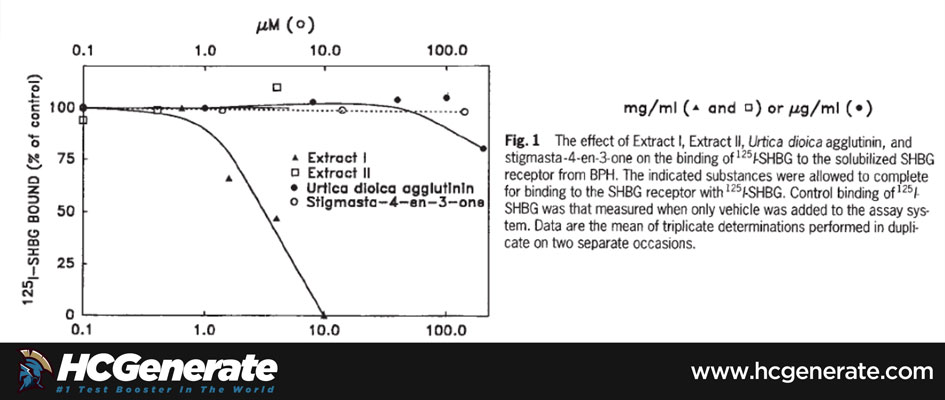 Other Health Benefits of Stinging Nettle Root
Reduced Inflammation
By reducing blood inflammatory markers such as TNF-a, IL-1, IL-6, NF-kB, stinging nettle can help reduce inflammation in the body. In a clinical trial with 37 patients suffering from arthritis, stinging nettle root enhanced the anti-inflammatory effects of the anti-inflammatory drugs the patients were on [5].
Reducing inflammation is beneficial to an athlete because it will speed recovery time and promote joint health.
Decreased Blood Sugar
Chemicals in the stinging nettle plant help control blood sugar.  In a clinical trial with 92 patients, stinging nettle root supplements significantly lowered blood sugar levels when compared with the placebo [6]. These results have been further validated with rat and mice studies [7,8, 9].
Reductions in blood pressure
Stinging nettle supplementation increases the release of nitric oxide in the blood stream which has an antihypertensive effect [10]. In addition to lowering blood pressure, the increase in nitric oxide levels will increase blood flow and nutrient delivery to working muscle cells.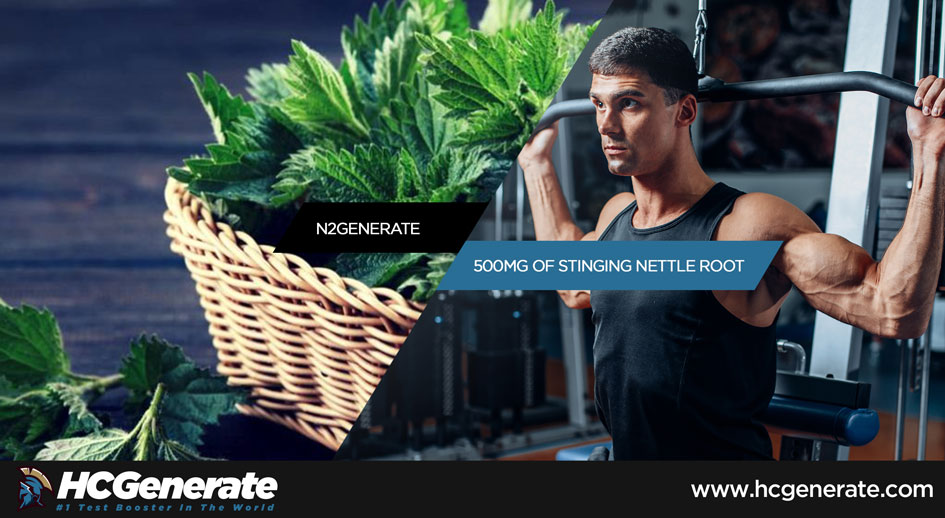 Purchasing a Stinging Nettle Root Supplement
Since it is the 3,4 Divanillyltetrahydrofuran lignan in the stinging nettle root that has the most significant effect on SHBG, look for a stinging nettle root supplement that is standardized for 3,4 Divanillyltetrahydrofuran content.
Clinical trials commonly used 120mg of stinging nettle root with a split dosage of three times a day (totalling 360mg). Look for a stinging nettle root supplement that contains at least 360mg per serving. N2Generate contains a daily serving of 500mg of Stinging Nettle root, this is a pretty strong dose to help you raise free testosterone.
N2generate contains 500mg of stinging nettle root standardized for 3,4 Divanillyltetrahydrofuran in each serving!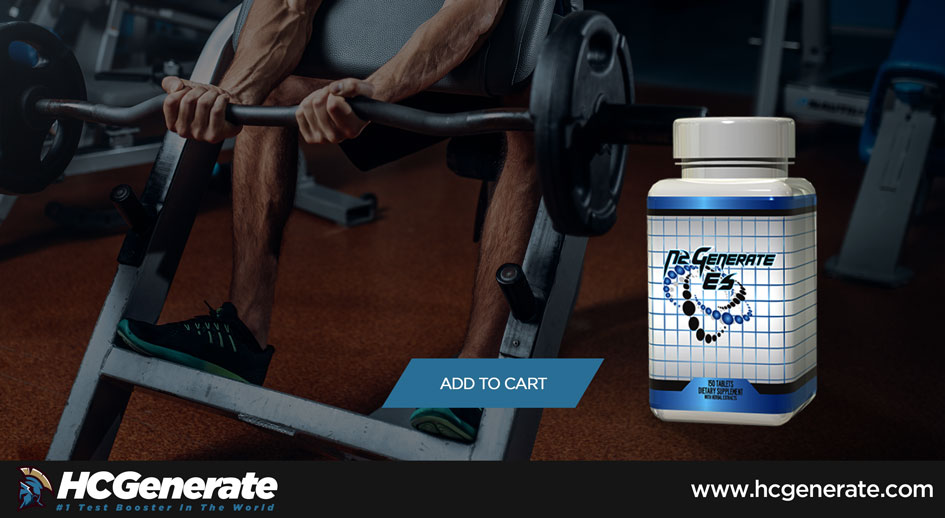 References
Part 1
[1] Schöttner, M., Ganßer, D., & Spiteller, G. (1997). Lignans from the Roots ofUrtica dioicaand their Metabolites Bind to Human Sex Hormone Binding Globulin (SHBG). Planta Medica,63(06), 529-532. doi:10.1055/s-2006-957756
[2] Ganßer, D., & Spiteller, G. (1995). Plant Constituents Interfering with Human Sex Hormone-Binding Globulin. Evaluation of a Test Method and Its Application to Urtica dioica Root Extracts. Zeitschrift Für Naturforschung C,50(1-2), 98-104. doi:10.1515/znc-1995-1-215
[3] Hryb, D., Khan, M., Romas, N., & Rosner, W. (1995). The Effect of Extracts of the Roots of the Stinging Nettle(Urtica dioica)on the Interaction of SHBG with its Receptor on Human Prostatic Membranes. Planta Medica,61(01), 31-32. doi:10.1055/s-2006-957993
[4] Chrubasik, J. E., Roufogalis, B. D., Wagner, H., & Chrubasik, S. (2007). A comprehensive review on the stinging nettle effect and efficacy profiles. Part II: Urticae radix. Phytomedicine,14(7-8), 568-579. doi:10.1016/j.phymed.2007.03.014
[5] Chrubasik, S., Enderlein, W., Bauer, R., & Grabner, W. (1997). Evidence for antirheumatic effectiveness of Herba Urticae dioicae in acute arthritis: A pilot study. Phytomedicine,4(2), 105-108. doi:10.1016/s0944-7113(97)80052-9
Part 2
[6] Kianbakht, S., Khalighi-Sigaroodi, F., & Dabaghian, F. (2013). Improved Glycemic Control in Patients with Advanced Type 2 Diabetes Mellitus Taking Urtica dioica Leaf Extract: A Randomized Double-Blind Placebo-Controlled Clinical Trial. Clinical Laboratory,59(09 10/2013). doi:10.7754/clin.lab.2012.121019
[7] Farzami, B., Ahmadvand, D., Vardasbi, S., Majin, F., & Khaghani, S. (2003). Induction of insulin secretion by a component of Urtica dioica leave extract in perifused Islets of Langerhans and its in vivo effects in normal and streptozotocin diabetic rats. Journal of Ethnopharmacology,89(1), 47-53. doi:10.1016/s0378-8741(03)00220-4
[8] Bnouham, M., Merhfour, F., Ziyyat, A., Mekhfi, H., Aziz, M., & Legssyer, A. (2003). Antihyperglycemic activity of the aqueous extract of Urtica dioica. Fitoterapia,74(7-8), 677-681. doi:10.1016/s0367-326x(03)00182-5
[9] Obanda, D. N., Ribnicky, D., Yu, Y., Stephens, J., & Cefalu, W. T. (2016). An extract of Urtica dioica L. mitigates obesity induced insulin resistance in mice skeletal muscle via protein phosphatase 2A (PP2A). Scientific Reports,6(1). doi:10.1038/srep22222
[10] Qayyum, R., Qamar, H. M., Khan, S., Salma, U., Khan, T., & Shah, A. J. (2016). Mechanisms underlying the antihypertensive properties of Urtica dioica. Journal of Translational Medicine,14(1). doi:10.1186/s12967-016-1017-3